About Michael Gravel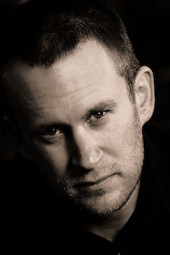 Michael Gravel's passions are poetry and web design. He believes that art, design, and poetry strive for the same ideal: to say the most with the least. He has penned two chapbooks: The Fast Places (2008) and Corduroy Forecast (2010). He runs a small web communication consultancy called MG Creative where he exercises his passion for simplicity and order. He was one of the founding founders – and the front man – of the Raving Poets, an open mic poetry series that concluded its 10 year run in 2010. Gravel is a gifted public speaker whose skills include poetic performance, event emceeing, lecturing, and teaching. His poetic influences include Carl Sagan, Jack Kerouac, and Dylan Thomas. His holy musical trinity consists of Bob Dylan, Tom Waits, and Bruce Springsteen. When not swearing at a text editor or cursing Photoshop, he can be found reading poetry and taking photos. He lives in Edmonton with his poet wife, Kerry Mulholland, stepdaughter, and two incorrigible hounds (an Alternate biography is available).
Promotional Photos
Feel free to use these photos for any promotional materials. They should be large enough for print quality. Use of these photos requires proper credit: All photos by Randall Edwards.
Projects
The Edmonton Poetry Festival
I have been the "webmaster" (I love that term, antiquated as it is) for the Edmonton Poetry Festival since 2008. It's my favorite project because it blends two of my great passions: poetry and web design. The festival is staged in Edmonton every April and has grown from a locals-only affair to one that attracts international artists.
The Raving Poets
In 2001 I helped found the Raving Poets, an open mic experience that blended the spoken word with live improv music by The Raving Poets Band. The Raving Poets scene was wholly unique in Canadian poetry circles. I was the event host and emcee from 2004 to 2010, and I presided over or read at hundreds of events. I marvel at how lucky we were to have a group of musicians devoted to supporting poets.
The Rasp and the Wine
The Rasp and the Wine was a reading series that I staged in '05 and '06, and did sporadic gigs in the years since. In 2010, The Rasp published four poetry chapbooks to great enthusiasm and acclaim. As of 2013 The Rasp is dormant, but who knows…maybe everything that dies someday comes back.
Alternate Biography
Michael Gravel was born in a bloodshot barn in Chaplin, Saskatchewan in 1951. His mother slapped his ass and sent him to live with a pack of prairie gypsies. He spent his formative years on the road, never staying in one place for more than a month or two. His adopted family traveled widely, and by age seven he had seen both Canadian coasts. He had his first brush with death at age nine, in which he survived an attack from a moose in Newfoundland. He cut his teeth playing rhythm guitar with The New Shylocks in 1966 and went on to form The Stung Bastards in 1968. He spent the 70's in various stages of intoxication and emerged in 1982 to find himself in Montreal. After bumming around several flophouses and poetry cafes, he made his way back to the prairie. His body has ceased to be restless, creating tension with his heart, which still pines and wanders.